Saluki Way
Main Content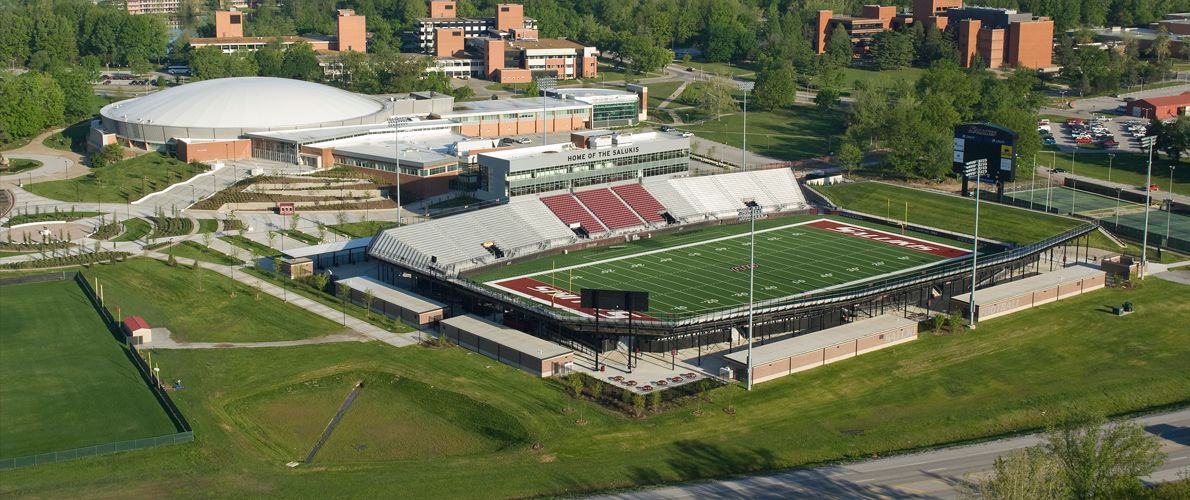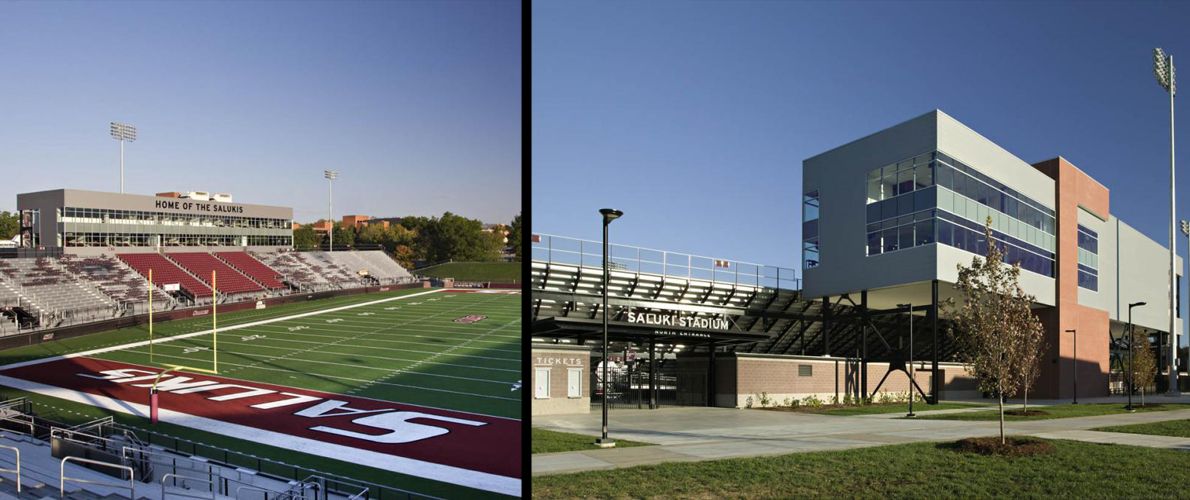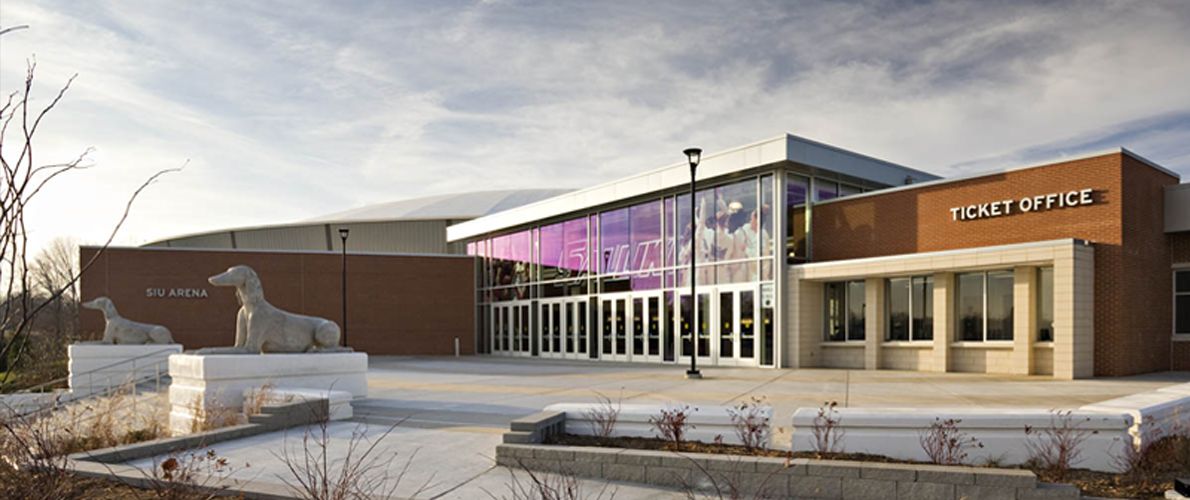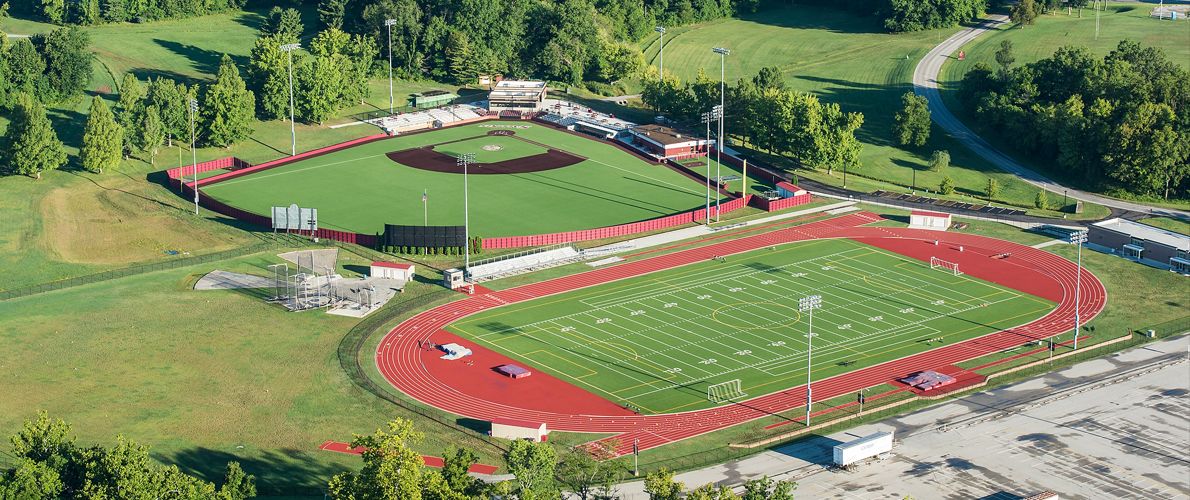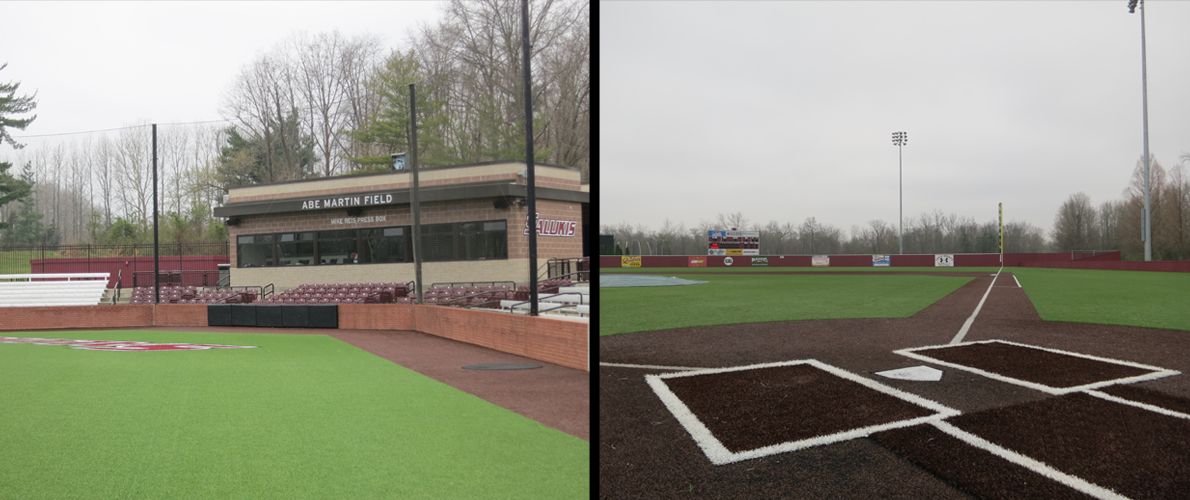 Saluki Way
The Athletics Facilities Master Plan included recommendations to improve athletic facilities.  The plan encompassed a new football stadium to be constructed south of the old McAndrew Stadium and east of the Arena, renovations and addition to the SIU Arena, renovations of Abe Martin Field, a new track and field facility, and an indoor field house and training center.
Saluki Stadium
The new U shaped stadium consists of tiered seating on the east, west and south sides with a corresponding lower concourse level.  The main entry is located on the southwest corner with the scoreboard on the north end.  Ample concessions, restrooms and storage areas are dispersed throughout the concourse. The west side, above the seating areas, houses media, coaches' suites, a club area and viewing suites.  Saluki Stadium was completed 2010.
SIU Arena Addition and Renovation
The SIU Arena was opened in 1964.  The last renovations were completed in 1996 with the replacement of the court.  The renovation project included new seating throughout the lower and upper areas, improved accessibility and entrances to meet the Americans with Disabilities Act requirements, middle handrails at all aisles, increased concessions, restrooms and fan amenities on the upper level, a new scoreboard as well as aesthetic improvements.  In addition to the interior upgrades, a new addition was constructed on the northeast side of the Arena.  The new area will include a main entrance and a two-level addition that contains expanded team facilities, an auditorium, mechanical areas, and office space.  Arena renovation was completed 2010.
Boydston Center
Southern Illinois University and Saluki Athletics dedicated the Boydston Center during a festive ribbon-cutting ceremony on Oct. 1, 2010.  The spectacular 50,000-square foot facility, which houses the Saluki football and basketball teams, was named in honor of former Director of Athletics Donald N. "Doc" Boydston.  Boydston's 15 years as athletics director from 1957 to 1972 produced one of the nation's most well-rounded athletics programs. Between 1960 and 1972, Saluki teams won 12 national championships in gymnastics, cross-country, swimming, golf and tennis.  Boydston was recruited to Carbondale in 1955 by then-SIU President Delyte W. Morris.  Boydston left his job as a professor in health education at the University of Mississippi to establish SIUC's department of health education. Boydston guided the University's nationally recognized health education department - now the Department of Health Education and Recreation - for 33 years, along with the department's graduate program.  Completed in 2010.
Lew Hartzog Track and Field Complex
The namesake of the facility, Lew Hartzog, produced a national powerhouse track and field program at Southern Illinois. During the course of three decades between track and field and cross country, Hartzog mentored 90 All-Americans, 14 Olympians, 7 NCAA champions and won 22 Missouri Valley Conference championships. He earned 19 MVC Coach of the Year awards and was named NCAA National Coach of the Year in 1982 and 1984.  Hartzog led SIU to three top-ten team finishes at the NCAA National Meet (SIU has five in its history) and was a member of five different Halls of Fame: Drake Relays (1987), Southern Illinois (1987), Illinois Track Coaches (1988), Missouri Valley Conference (2003), and USTFCCCA (2007).  This project was completed in May 2012.
The facility includes: 
A regulation NCAA competition 400-meter track with a state-of-the art, full-depth polyurethane synthetic track surface system. 
Accommodations for regulation NCAA competition field events, including bi-directional pole vault and long and triple jump surfaces. 
Accommodations for regulation NCAA competition throwing events, including a dual shot put pad and hammer throw, discus and javelin areas. 
A state-of-the-art, multi-event synthetic turf infield which can be set to accommodate an NCAA regulation soccer pitch or football field. 
Spectator seating for 250, including seven ADA positions with future capacity for up to 500 additional spectators. 
Pole-mounted track and field sports lighting. 
A 4,500 square foot track and locker support building with future expansion capability. 
A free-standing track building for event operations and viewing.
A 200-meter competition track as well as a 200-meter warmup track.
Horizontal jumps and pole vault runways.
Throwing area includes both a cage for weight throw and ring for shot put.
Richard "Itchy" Jones Stadium Renovation
The Southern Illinois baseball team moved into the brand new $4.2 million Richard "Itchy" Jones Stadium for the 2014 season after playing at Abe Martin Field since 1964. The renovated facility is named after SIU's all-time winningest baseball coach. In 21 years as head coach, Jones led the Salukis to 10 NCAA Tournaments and three College World Series.
Constructed on the site of Abe Martin Field, Itchy Jones Stadium features two varieties of AstroTurf artificial grass playing surface. The outfield features 3D Extreme, and the stadium is the first in the United States to install AstroTurf's new 3Di on the base paths. The pitchers mound is a traditional natural surface, while the remainder of the field's playing surface is comprised of AstroTurf.
The modern, concrete seating bowl features five rows of chair back seats behind home plate and bleachers with back rests along the baselines. Picnic tables line the concourse for a relaxing viewing experience. Itchy Jones Stadium also features a permanent concession stand and merchandise stand along with heated restrooms on the concourse behind home plate. The ticket window is located next to the clubhouse, along the third baseline. The stadium also features, new, expanded handicap parking on the road adjacent to the left field line.
The installation of six stadium light poles in 2014 allow for night games at the park. The first home night game in program history was played on Friday, April 4 against Bradley.
The press box, named in honor of longtime Saluki broadcaster Mike Reis, was built for a cost of approximately $175,000. It is 80 percent larger than the press box at Abe Martin Field, which was built by Jones, himself. Included in the 800-square foot press box are two radio booths and one flex booth that can accommodate radio or television. It also features a television production center and game operations suite.
The Dan Callahan Clubhouse was renamed in 2014 to honor the late head coach of the Salukis, who guided SIU for 16 seasons.
View a 
PDF map
 of where the projects are on campus.